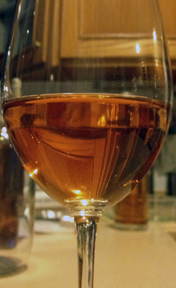 It smells like wine. We must have done something correct. A couple small carboys, in the refrigerator for a few months, were filled with a white Cabernet Sauvignon. Meanwhile a couple larger carboys with another white Cabernet Sauvignon needed racking. So it was time to move things around. Starting with the refrigerated carboys of wine, they were removed and allowed to warm up to room temperature. Then we filtered the wine and bottled it. Of course we had a bit extra.
The white Cabernet Sauvignon is an orange color. Quite a contrast to the dark ruby to almost black color I get making my usual Cabernet Sauvignon. The wine offered a different tasting profile. The aroma and taste reminded me of berries. The mouthfeel was quite smooth and there was a hint of apple and peach on the aftertaste. This is a Cabernet Sauvignon? There may be a slight hint of tannins if you hunt for them. The juice for this wine did see about thirty minutes of skin contact. Grapes for this white Cabernet Sauvignon were from Virginia.
The orange color is growing on me. I seem to like it better the more I stare at it.
Cheers,
Terry