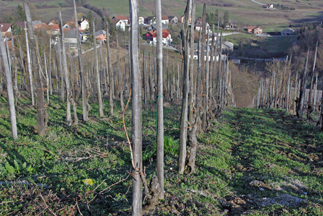 Now that we are in Croatia visiting wineries, we've come across some different terms than those used previously. Grape varieties such as Riesling, Chardonnay and Cabernet Sauvignon, amongst others, are referred to as International varieties. Previously I would refer to these as French vinifera, but I like the term international varieties because these grapes truly are grown internationally. It just makes sense. The other term that I am beginning to get use to is wineyard. For years I've used the term vineyard, but wineyard also makes sense. Actually the longer I'm in Croatia the more I like the term.
Yesterday we explored two wineries to the west of Zagreb. We noticed an interesting system in some of the wineyards. Although some had traditional trellising systems, others had vines staked. A single pointed stake was placed next to each vine and no wires were used to connect the vines. At Ciban Winery, Dragec and Irena Ciban mentioned that the staked vines were planted in 1898. There are more than thirty varieties many of which have not beed identified.
Another interesting change of terms is black wine instead of red wine. The wines we had yesterday were closer to black in color than red, so this is another example of a term that makes sense. World travel offers chances to learn about wine making and wine growing as seen through different eyes. We are in Croatia to learn about their winemaking and to attend and present at the International Wine Tourism Conference in Zagreb on March 15th and 16th.
Cheers,
Terry