Ron Cates from Constant Contact delivered the general session presentation of the second day of Craft Beverages Unlimited. Have the wine, beer and spirits utilized the power of digital marketing? The focus of Ron's talk was on email and social media. Ron started with email, a marketing tool that he sees is the original form of social media. He spoke about the myth that email is dead. Ron pointed out that you need an email account to register on Facebook. He asked the audience how many have already tweeted today or posted on Facebook. Very few raised their hands. Ron then asked how many of the attendees checked their email today. Most raised their hands.
Email offers the highest return on investment over search, display and social. There are things that consumers expect with email. One is that email is to look professional. Do not make your entire email based on images because many email programs automatically block images. There should be a contrast between text and the background. Also consider sending different messages to different groups as opposed to the same message to everyone on your email list. The choice of fonts and size should be based on your market. The ideal subject line is short. Try to keep it in the low 30s characters. It should be read in two seconds and have two words. Long subject lines may be cut by the email client. People tend to take action on subject lines without reading the email. Best days in the United States to send email is Tuesday, Wednesday and Thursday at 10:30 am. If you are sending emails to people in different time zones, create different lists and send email to each list when it is 10:30 am in their time zone.
Ron called social media the center of a party on steroids. Sharing content is very important. Social media influences decisions. Ron presented a slide that showed 74% of people make purchase decisions by relying on social networks. You do not have to be perfect when using social networks because using social is forgiving. There are many niche sites that you can belong to.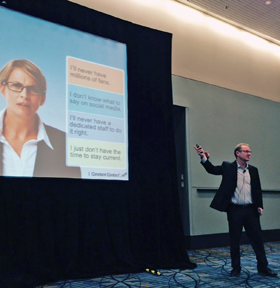 What can wineries, distilleries and breweries gain from social media? They can gain a presence. It does not take unheard of hours to send content on social media platforms. Use Facebook between three and ten times a week. Share content rather than trying to sell something. To engage on Twitter, send at least five tweets a day. There is no maximum number of tweets. Share content and retweet. LinkedIn is a professional network. Share content at least two times a week. There are numerous craft beverages groups that you can belong to on LinkedIn and post content or participate in discussions. Pinterest is an image social media platform. Post several pictures a day.
Craft beverage providers should examine their marketing strategies using email and social media. Perhaps there are platforms that they may want to explore. In my case, I was mostly a Twitter user until I started meeting winemakers and wine enthusiasts from the country Georgia. In Georgia, the main social platform is Facebook. I have since used Facebook more often. I post to Twitter and Facebook almost daily usually within the guidelines offered by Ron.
Cheers,
Terry