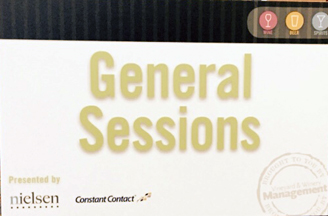 The opening general session of the 2015 Craft Beverages Unlimited, formally Wineries Unlimited, focused on trends in beer, wine and spirits. The speaker, Danelle Kosmal from Nielsen's Beverage Alcohol Practice presented statistics gather by Nielsen.
Danelle opened her talk with the number of new alcohol beverages that Nielsen tracked in 2014. The astonishing number of new products was 10,441 with new items including 4,622 new wine items. Danelle then spoke about consumer confidence in the US market. Today there are 65% of respondents that feel we are still in a recession. Even though there is presently a lackluster growth for all sales, alcohol sales are doing well. Danelle mentioned much of the off-premise sales data for beer, wine and spirits.
Tracked sales across beer, wine and spirits during 2014 include $103 billion in sales for beer, $77 billion in sales for spirits and $31 billion in sales for wine.
For beer, the drivers of growth for craft beers were hoppy styles of beer. Growth was also tracked for the distribution of beer including more and new products. Another craft beer growth was seen with offering variety packs and pick-6. Growth can also be attributed to packaging in cans although bottles still leads the craft beer packaging. People like to purchase craft beer because of different styles and tastes. Consumers also like seasonal varieties. Variety packs are popular for parties and holidays. The strongest market for craft beers is in Portland, Oregon followed by other west coast markets. Lime continues to be the top flavor for beer.
Cider is a very small category, but showed a 67% growth in 2014. Consumers see ciders as a bridge between beer and wine.
Wine
Higher price wines have about 25% of the sales, but account for 50% of the value. While lower price tiers have 75% of the sales and account for 50% of the value. Red wines are still leading in wine sales with about 46% of the sales, although white wines are only trailing at 44% of the volume. Prosecco leads the growth in sparkling wine sales. As far as varietal wines, Chardonnay leads with 19.4% of the volume while Cabernet Sauvignon has 13.3% of the sales volume. Wine innovation is led by red blends.
Red blends were looked at more closely. Consumers resonate with red blends seeing them as more interesting than single variety wines. This interest in variety is seen across all alcohol beverages. Red blends seem to be purchased in addition to single varietal wines. Most wine purchases are still from the west coast.
Spirits
Whiskey still leads the sales volume for spirits. Bourbon, Irish and Rye are showing double digit increase in sales. More females and Hispanics are leading the growth. One of the growth drivers is flavored whiskeys. Although the segment is small the value of the sales is high.
Danelle spoke about trends in the alcohol beverage industry. Off-premise sales lead on-premise sales. A trend is purchasing alcohol in grocery stores that also have restaurants. E-commerce and alcohol delivery apps are beginning to be trends. The idea of drink local is also trending in beer, wine and spirits. Beer had 44% of respondents that see buying local as important while 33% for wine and 22% for spirits. There is a crossover of consumers that purchase wine and beer or spirits.
The consumer is showing different purchasing behaviors. The age group 21 – 36 is drinking less beer and more wine and spirits. Even though beer purchases is slightly reduced for this age group, craft beers are very popular for this group. In major US cities, roughly half of the 21 – 36 age group are Hispanics. High end growth for wine is being driven by the older aged groups.
Variety and trying something new is the trend in the alcohol beverage industry.
Cheers
Terry