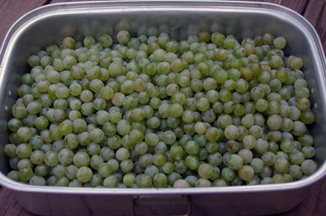 I decided, for better or worse to harvest the Niagara grapes. They only reached a brix level of 16 and stalled. The seeds were brown and the flavor was good. Normally, I'd let them hang but since some of the berries were beginning to rot and I don't have many clusters, I decided to pick them. Kathy and I picked the grapes and then hand sorted. We ended up with 12 ¾ pounds. Not much to make wine, but I'll give it a try.
Many people do not like wines made from American grapes. My family is different. When my adult children smell the Niagara grape or wine their immediate comment is, "Grand Ma's house!" This is in reference to our summer trips to Marcellus, New York. Mom Linck had some Niagara grapes and the kids would help themselves. American varieties have a tendency to evoke memories. While tasting our Cab at Vint Hill Craft Winery last week, the winemaker tasted one of my Niagara grapes. DJ said it reminded him of his Grandfather's grapes. He never knew what they were called, but remembered their aroma and taste. Varietal American grapes evoke instant memories.
Naming a wine is always interesting and occasionally a fun exercise. Since I'll only end up with a few bottles, perhaps I'll call the 2009 vintage Niagara, "Grandma's House."
Do Niagara grapes or wine evoke any memories for you?
Cheers,
Terry