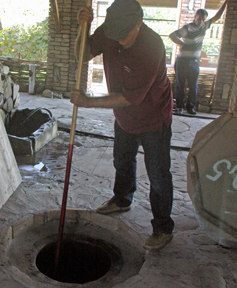 Although we were not present at Twins Wine Cellars at Napareuli to punch down our cap, we did punch down the cap on a large capacity qvevri at the winery. Our previous experience of punching down was at Tin Lizzie Wineworks in Clarksville, Maryland last fall. Kathy and I went to the winery daily and punched down the cap of our fermentation bin and several other clients' fermentation bins. The caps in the fermentation bins were four to six inches thick. Punch down required a litter effort the first time you punch through the cap, but it was easy after that. Punching down the cap in a large capacity qvevri is an entirely different experience.
The cap in a large capacity qvevri is over a foot thick, 0.3 meters. It's not as easy to punch down the first time. It took a lot of effort and pressure to break through the thick cap. Even subsequent punch downs took a lot of effort. As soon as I had one side punched down and started the other side, the cap where I began was already formed. One has to work quickly and use a lot of force to punch down a qvevri cap. Why was the cap so thick?
The fermentation bin at the Maryland winery was larger at the top and smaller at the bottom. There was more surface area for the cap to form. The design of a qvevri is smaller at the top. There is less space for the cap to fill so the cap is much thicker.
We also punched down the cap at Soliko Tsaishvili's winery, Our Wine, in Kakheti. We were punching down Rkatsiteli that had been fermenting for ten days. At this point, the cap was less thick and the punch down was much easier. We did learn at Our Wine that after punch down, a worker must use a sponge with clean water to wipe the inside of the qvevri where there are no grapes or wine. During punch down, there is splatter and the sides of the qvevri near the top may become splattered with grapes. Wiping this clean helps eliminate the formation of bacteria.
Cheers,
Terry