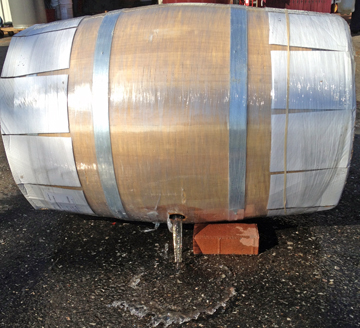 After a couple weeks of post fermentation maceration we decided to press our wine and put into a Taransaud barrel. Yesterday, I filled the barrel with water. Today we emptied the water. While it was pouring out of the barrel, we put some in a wine glass to observe. The water had a slight honey color and an oak wood aroma. After letting the barrel drain, it was rolled near the press and placed on a rack. Kathy sanitized the press.
We moved the fermentation bin close to the press and hand transferred the contents to the press a bucket at a time. The wine was pumped to the barrel. The free run wine filled over half the barrel. We then began to press the must and collecting more wine in the barrel. Eventually the barrel was filled with little spilled. Four additional gallons were collected and placed in carboys. We brought a final quart home to make wine jelly.
The actual process of pressing the must and transferring to barrel took less than a half hour. Another several hours was spent cleaning. This is a good reminder that much work done in a winery is cleaning and sanitizing. We hosed down the press and then washed it. We also swept and mopped the winery floor.
Our plans are to rack the wine off the lees in a week. We will rack to an empty barrel and clean our Taransaud. Then we'll rack back into our barrel. The procedure at Tin Lizzie Wineworks parallels what we are doing at home. This is a good week for racking.
Cheers,
Terry