For decades Wineries Unlimited has been the premiere wine trade show in the Eastern United States. Several years ago the trade show moved from South Eastern, Pennsylvania to its new home in Richmond, Virginia. We attended the first show in Richmond in 2011 and attended again in 2012. Since that 2012 show, Wineries Unlimited has expanded to include beer. This years marks another expansion, to include distilled spirits. The name also has changed and now the trade show is know as Craft Beverages Unlimited.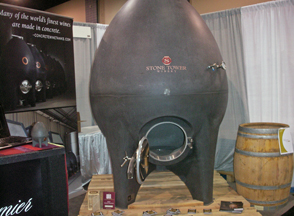 The two day conference and trade show takes place on March 4th and 5th at the Greater Richmond Convention Center. Each morning begins early with a general session from 8:00 am until 9:00 am. On Wednesday the topic of this general session is "What's Trending in Beverage Alcohol" and Thursday's session is titled "The Power of Digital Marketing." Each day at 10:00 am the trade show opens. Over 100 businesses will have tables set up for attendees to visit and chat about their products or services. On Wednesday the trade show closes at 6:00 pm and on Thursday the trade show closes at 2:00 pm.
During the other hours of the day there are concurrent sessions running. On both days from 9:00 am to 12:00 noon, there are sessions covering marketing and business. At the same time both days there are sessions covering beer. From 10:00 am until 4:00 pm the first day there is a session on distilling. Kathy and I are going to attend this session because it is new and we are expanding our website to include distilleries that we have visited over the years. The distilling session also has a field trip to a local distillery. As a former teacher, I always enjoyed field trips. The wine sessions are from 2:00 pm until 6:00 pm each day.
Late afternoon/evening events take place the first day of the conference. There is Spiegelau Beer Tasting on Wednesday, March 4th from 5:00 pm – 6:00 pm. From 6:30 pm to 8:30 pm there is a networking party at the Capital Ale House that will feature food and beverage parring. The Capital Ale House is about 0.6 mile from the convention center. It is only half that distance from our hotel.
We are looking forward to attending this years Craft Beverage Unlimited and hope to learn much about distilling and wine production. I also hope to track down one of the wine speakers who will talk about "four white wine methodologies, clay jar wines." This topic piqued my curiosity since I have a qvevri with a white wine in it. The qvevri is buried under ground and the white wine is on its chacha. I'm planning to open the qvevri at the end of March or beginning of April unless this bitter cold continues and delays spring. Next week Kathy and I will cover Craft Beverages Unlimited with daily blog posts.
Cheers,
Terry