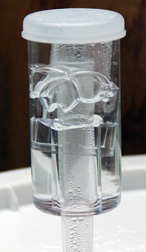 My wife, Kathy, gave me a wine kit as a Christmas present in 2007. We have been writing about wineries for a year and made the decision that if we were going to write about wine, we should make wine. The kit remained in the box for six months until I gained the courage to plunge forward and make the wine. The wine turned out being the worst wines we have made in seven years. We had no guidance other than YouTube videos. If I knew then what I know now about winemaking my protocol would be different then the directions.
In a "history repeating itself moment," we gave our daughter and son-in-law a wine kit as a Christmas present in 2013. It set unmade for over a year. We visited them over the 2014 holidays and finally they began. Now I see the value of some level of mentoring in early stages of winemaking. We talked them through each step and explained why they were doing what they were doing. I've received a few telephone calls and several photo of where they were since starting the process. Along the way I was able to give a bit of advice. This seemed to really calm them down. I'm sure they will continue to make wine in the future.
Lending a helping hand is a wine industry standard. Over the years I talked to winemakers around the world and sought advice. One situation is topping off wine. What do you do to help avoid oxidation once you use some of the wine to top off? I am referring to very small batches such as a gallon of wine not the topping off wine in variable capacity tanks. Winemakers had many ideas. The obvious was to put the remaining wine into a smaller bottle. Another winemaker suggested placing sanitized marbles in the original bottle until the volume rose. I decided to go with different sized bottles. I also received some interesting advice on what to do with the first wine we made. To improve the wine, one winemaker suggested that I pour about an inch of port in the bottom of a decanter and then pour in the wine. Another winemaker asked, "Why would you want to ruin the port?"
In making my first qvevri wine in Maryland, I sought advice from winemakers in the country Georgia. I received specific guidance on what to do to coat the inside of the qvevri with beeswax. Afterwards I received advice on what to do to protect the qvevri and its wine from the extreme cold that we are having in Central Maryland. The qvevri is buried underground, but I would like to keep it from freezing.
Winemakers are a great source of advice, and we have always experience them willing to share it. Going through the process of making wine for the first time can be daunting and a mentor can certainly ease the way. Have you mentored new winemakers?
Cheers,
Terry