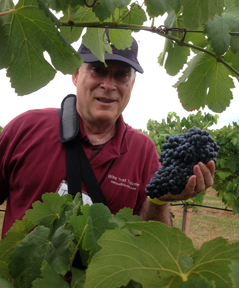 Harvesting grapes may seem romantic, but it's work. Our first harvest was at a Maryland winery. It was a hot day and the sun was beating down on the vineyard as we began around 9:00 am. It took Kathy and me about an hour and a half to fill two lugs. Then we were put to shame when we watched professional harvesters fill a lug in minutes in California. We were determined to do a better job at harvesting.
Our opportunity to redeem ourselves occurred yesterday at Messina Hof Winery in Bryan, Texas. We were visiting Messina Hof for a reunion of the media that attended the 2012 International Wine Tourism Conference that was held in Umbria, Italy. We were expecting another sun-drenched day with high temperatures. However, you can not always write a script for harvest. You get what nature hands you for better or worse. In this case it was for the better.
The morning started off cloudy with a slight breeze. After an orientation a group of 150 people headed to the vineyard to pick Lenoir also know as Black Spanish. What a difference. People were really on task picking the grape clusters and filling their lugs. Kathy and I filled three lugs in about thirty minutes. Still not at a professional level, but definitely outpacing our last harvest attempt.
It was quite easy to harvest Lenoir. Kneeling made cutting the clusters, with a curved knife, easy. Most of the clusters were near the bottom or slightly above the bottom of the grapevine. The Lenoir clusters were large and easy to locate. The majority of the grapes were ripe and very few green grapes were in any of the clusters. With 150 people, as a group we harvested grapes in a row rather quickly. For a short morning activity, three tons of grapes were harvested. It was nice to have redemption for our first harvest attempt.
Cheers,
Terry