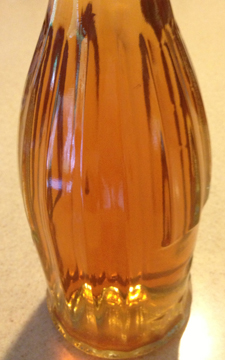 Finally managed to bottle the 2012 White Cabernet Sauvignon made with juice from Thanksgiving Farm in Harwood, Maryland. The wine was in carboys in the refrigerator for the last two plus months taking up valuable real estate. The reason it took so long to get it bottled is that I didn't have enough bottles. We had to drink a few more white wines to provide bottles for the new wine. That took awhile considering we have had below average temperatures for several months and so far May of 2013 continues to follow the trend. I tend to drink fewer white wines in cold/cooler weather than I do in warm/hot weather.
So why did I make a White Cab? Over the past few years, Kathy and I have visited several wineries that had a White Pinot Noir, White Merlot and White Cabernet Franc. Since Cabernet Sauvignon is my favorite grape for wine making, I thought about a White Cabernet Sauvignon. Chris Pearmund gave me a couple gallons of Virginia Cabernet Sauvignon juice and I received several gallons from Thanksgiving Farm for a Maryland White Cab. We bottled the Virginia White Cab months ago and finally opened a bottle. Wow! Very fruit forward but with red berry fruit. I was drinking more of the Virginia White Cab today and am getting strawberry and rhubarb notes. I tasted the Maryland White Cab and it too was very fruity.
Now that I have my White Cabernet Sauvignon experiment in bottles bring on the 90º weather. I wanted to make a wine that would be a good apéritif served cold on a hot day during the summer. So far, I'm happy with the way this White Cab turned out. I like the orange/salmon color and the red berry fruit notes.
Cheers,
Terry