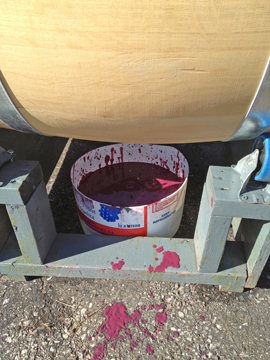 Some do. Some don't. We did. A week after pressing our Cabernet Sauvignon, we racked the wine off the gross lees (dead yeast cells). We actually racked into a stainless steel tank. Then Terry rolled the barrel to a barrel stand that has wheels on it. Kathy and Terry turned the barrel with the bung hole down and watched as the gross lees poured into a bucket. The gross lees looked like a strawberry milkshake. Then we washed the inside of the barrel several times until the water ran clear.
After the barrel stopped draining water, it was rolled back to the stand. We then racked from the stainless steel tank back into the barrel and topped off with one and a half gallons of our wine that was in carboys after pressing last week. While we were cleaning the barrel, Dave went into chemistry mode and checked the sugar levels and the malolactic fermentation. The sugar was down to 0.25% and the malo test indicated that the malolactic fermentation was complete. It's time to put our barrel of Cabernet Sauvignon to rest.
The Taransaud barrel is a joy to work with. Unlike an American oak barrel, there is room to grab the barrel that makes lifting it easy. The French oak barrel also seems lighter than an American oak barrel. I had no problem lifting the barrel, empty of course.
Cheers,
Terry