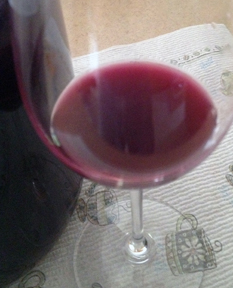 In the Bible there is an account (John 2:1-11) of Jesus turning water into wine. He did this instantly without adding anything to the water. Can winemakers though turn water into wine? Yes, they can. Wait a moment, Kathy's waiting for a lightning bolt to strike!
Last weekend Kathy and I brought home 25 gallons of pomace from the pressing done at Tin Lizzie Wineworks. We measured the pomace in gallons because we filled 6-gallon containers. We used 20 gallons of pomace to make a second run wine. To the pomace we added water that we dissolved sugar in. It didn't take long for fermentation to begin. There were active yeast colonies in the pomace and when that sugar water hit the yeasts it was like a vacation in an ice-cream factory. Fermentation was done in a couple days and the wine was pressed. The wine went into carboys and the pomace was added to the compost pile.
My expectations, based on what I read, was that we would create a light colored and light bodied wine that would be second rate, perhaps good enough for a table wine. I wanted to try a second run wine, just to learn how to do it. My expectations were off. Quite a bit of color was extracted from the skins and the color after a second racking into a six-gallon carboy was a dark ruby. This is lighter than the first run wine that is a dark purple to black. The aroma is developing; some dark fruit but nothing that stands out. There is a discernible dark fruit and spice on the taste.
Kathy added some StaVin French Oak medium plus toast beans to the six-gallon carboy to give the wine an oak influence. We received a sample of the StaVin product at Wineries Unlimited and wanted to give it a try. At home, I have used oaked spirals in the past. Now we'll find a resting place for the carboy and let it age for awhile. The potential wine is certainly not as complex as the first run wine. But has potential especially when you stop to consider that you are turning water into wine.
Cheers,
Terry