Label design was something I've dreaded for more than a couple years. I had to make some decisions this past weekend though and get the design for the bottle label completed for the wine we have in barrel at Vint Hill Craft Winery in Virginia. Our label must be approved by the TTB. I don't fully understand this. The wine is for personal consumption and is not going to be sold. However, it could be sold at Vint Hill Craft Winery. Having to deal with the government does afford a learning experience and is a gentle reminder that wine made all over the world is influenced in the vineyard, by the winemaker and by government.
For my design my goal was to create something simple and traditional. The font Didot was used since this is a traditional French font. We decided to use the word Illuminatus for our labels when we bottled our wine made at Tin Lizzie Wineworks in Maryland. The word is Latin and means enlightenment. Making wine at Tin Lizzie Wineworks and at Vint Hill Craft Winery has certainly been enlightening. So I want to call this wine Illuminatus also. I also want to use the vintage year, 2009, and the varietal name Cabernet Sauvignon on the front label. What I want and what I'll have to do may be two separate things though. There are all these rules that one has to deal with. My back label has the government warning and the wine was produced and bottled at statement. I'm also trying to have a statement of where the grapes were sourced, when they were sorted and when the wine went into oak and was bottled.
Here are my designs for the front and back labels. It will be interesting to see how many edits I'll have to make to comply with government rules.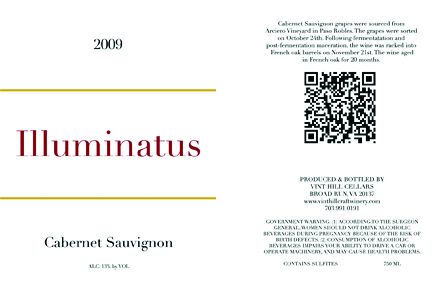 Cheers,
Terry