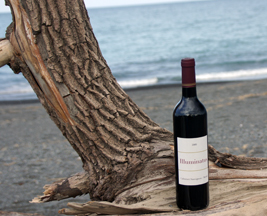 When traveling, it is nice to take wine with you. On a trek to New Zealand we took four bottles of our 2009 Illuminatus a Cabernet Sauvignon/Merlot blend made at Tin Lizzie Wineworks. So far we gave a bottle to Mike Spratt at Destiny Bay Vineyards on Waiheke Island and drank a bottle with new friends, Diane and Gary Forristall while in Napier. Diane and Gary own a vineyard and make wine in Iowa. The other two bottles will be used next week.
Pearmund Cellars in Virginia has a photo album in their tasting room. The album has photos of a Pearmund Cellars wine that traveled to places around the world. I thought this was a great idea, so I'm beginning a photo album recording in pictures the travels of the Illuminatus label. The photo on the right shows the wine with Hawke's Bay in the background. This is about 9000 miles from where the wine was made. Hope to get a couple more photos next week.
How far has your wine traveled?
Cheers
Terry