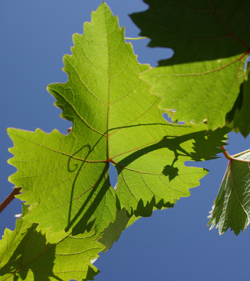 I find myself sitting on the deck marveling at the Dornfelder grapes and the pictures that nature paints. Every day is different. Today I noticed and tried to capture the sunshine casting shadows through the leaves. The bright blue background gave a nice contrast to the light green. Vineyards are beautiful to gaze upon, especially if you can gaze from a shady spot.
The canvas covering over the four-corner gazebo broke under the weight of a heavy rain years ago. Three summers ago I planted two Dornfelder vines to grow up the sides and provide a canopy. I saw how prolific Dornfelder was when it covered the side of a barn at Fulkerson Winery along Seneca Lake in New York. In the three years the vines haven't actually provided a canopy, but have provided some beautiful scenes. In retrospect, I should have planted the two Niagara vines; they would have provided a canopy.
For now, I'll just marvel at the picture painted and occasionally click the shutter.