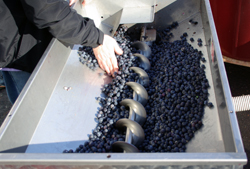 Eight hundred pounds of blueberries is a lot of fruit. So what can be done on short notice? One option is to make wine. The flats were loaded onto a truck and delivered to Tin Lizzie Wineworks early on the last Sunday of the year. We arrived at 10:00 AM and began to open the containers and dump the fruit into a crusher. With several people working, the entire crush went quickly. When finished we had about 350 liters of blueberry must.
The must was the consistency of a milk shake. Trying to get a hydrometer reading would be difficult. Dave Zuchero, winemaker at Tin Lizzie, opted for the refractrometer to get an idea of the brix level. The must measured 12 brix on the refractrometer. Sugar would need to be added to raise the brix level and potential alcohol. This was not unexpected. The pH level was 3.37. So there was a good acid level to the fruit. This was also expected.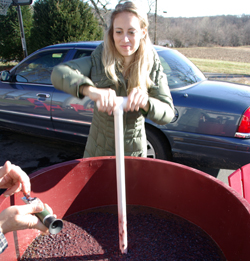 I did some research on blueberry winemaking before going to Tin Lizzie. Every recipe I found called for the addition of water to the blueberries. Often 15 pounds of blueberries for five gallons of wine was mentioned in the recipes. Dave contacted one of his professors at UC Davis who said treat the blueberries as though they were Cabernet Sauvignon and you don't have to add any water. Dave decided to add a few gallons of water along with thirty pounds of sugar to the must. He has a good eye for how full the fermenter needs to be in order to fill a barrel.
Not that he is going to put the blueberry wine in a barrel. That is just one of the options Dave is considering. When we left, he was considering putting the wine in stainless steel tank and experimenting with oak chips and sugar levels in carboys. One can do a lot with blueberries and there are many different styles to explore.
Kathy and I took our daughter Erin with us to Tin Lizzie. Erin ocassionally writes for Wine Trail Traveler. Being in the country with wonderful people who have a passion for wine is just the right perscription for those who live in New York City and need some relief. Erin's next stop is Los Angeles and we hope her acting career will afford her some time to visit the California wine regions. Meanwhile, we'll save a bottle of blueberry wine for her. It is always exciting to have a bottle of wine that you helped to make.