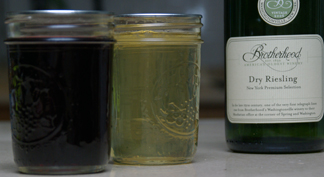 Most people do not have access to must or the leftover pumace after a pressing. We successfully made wine jelly from must. However, if you do not have access to the must what can you do?
One of the easiest jellies to make is wine jelly. Just pick up two bottles of your favorite wine. If you are planning to make the jelly and use as a gift, pick up two bottles of the recipient's favorite wine. You will need two bottles because the recipe calls for 3½ cups of wine. You will only get slightly over 3 cups from a 750 ml bottle of wine. I assume you won't have any problems with the leftover wine, however if you need inspiration the Wine Trail Traveler site has over 130 recipes with wine as an ingredient.
Next collect the materials that you will need. For the recipe you will need wine, lemon juice (I used concentrate and it worked each time), SureJell (I only use this brand of pectin and it worked well) and sugar. That's it. Now for equipment you will need six one-cup Mason jars or three pint Mason jars. You may have a little left over that you can place in any container and enjoy after it sets. You will need a saucepan large enough to boil the Mason jars before placing the jelly in them. Then this pan will be used for a hot water bath after the jars are filled and sealed. You will also need a saucepan for boiling the jelly. Once the sugar is added, the mixture will foam and if your pan is too small it will boil over and out. I used a five-quart saucepan and had to hold my breath for several seconds, hoping it would not go over the rim. It would be better to use at least a six-quart saucepan.
This is a simple recipe for making wine jelly. Wine jelly not only tastes good, but makes a good gift at any time of the year.