Winemakers do not often get a vacation. In the winery, there is always something to do. One of those tasks is racking the wine. Kathy and I helped winemaker, David Zuchero, at Tin Lizzie Wineworks rack the wine in seven barrels. It took the three of us about five hours, although I do believe that we were increasing speed throughout the day rather than slowing down.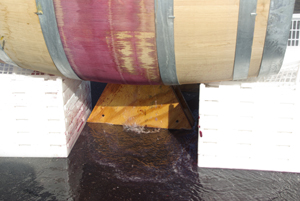 Racking is relatively simple. Moving and lifting the barrels (while empty) was the hardest part. We racked the wine from the first barrel to an empty barrel. While transfering the wine, we kept careful watch for the lees that settled at the bottom of the barrel. We wanted to discard the dead yeast cells. Once empty of wine, we moved the barrel to an outside area to drain the lees and power wash the barrel's inside. The lees look like a gooey red-purple sludge. The power washing didn't take long. For the first minute the water that exited the barrel was red-purple in color. It then changed to clear. The head of the power washer rotates while in the barrel blasting water to all parts of the barrel. We washed each barrel for about five minutes. Now the barrel was clean inside and wine could be transferred to it.
After a couple of barrels, Kathy and I knew what we were doing. Everyone was constrained by the speed of the pump. Although it should have emptied the barrels sooner, it was taken much longer than manufacturer specs. With a larger, faster pump, we would have trimmed an hour or two from our total time. We did seven barrels. I can imagine the hours this task would take for wineries with hundreds of barrels.