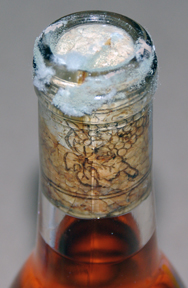 It is now a fact that I've learned more of "what not to do," than what to do after making my first two batches of wine from kits. When checking the bottles in my wine cellar I came across one of my dessert Riesling bottles that had mold growing on it. It didn't look good so I pulled it from its dark habitat and brought it to the kitchen for closer inspection. The cork closest to the wine was wet. Unfortunately the wetness proceeded all the way to the top of the cork on one side. The wine was slowly leaking. The high sugar content and darkness provided an ideal environment for mold to grow.
I was reminded of what Phil Baily of Baily Vineyard and Winery told me during a tour of the winery facility in Temecula, California. Phil stated that cork is the best closure for wine bottles. It's also the worst. Perhaps I should spend more money on enclosures.
So I opened the bottle to taste the wine. Its color was still a translucent yellow. It showed no signs of turning amber. The color in the photo is misleading. The aroma was definitely from the Riesling grape slightly floral and definitely fruity especially apple. If the wine is oxidizing it is in the very early stages. It was smooth and sweet although there was crispness on the finish and more tropical fruit on the aftertaste. Chris Pearmund of Peramund Cellars in Virginia told me that sugar is the winemaker's secret ingredient. It can mask flaws in a wine. My wine was sweet enough to be very drinkable, fault or not. Perhaps looks can be deceiving.