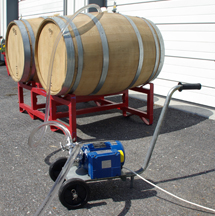 I always fancied vineyards, winemaking and wine as romantic. Vineyard weddings or proposals field this view. So do winery receptions and bridal parties. Wine can always be romantic. However there is another side to the process from the vineyard to your glass that is not romantic.
My first day spent working at Tin Lizzie Wine Works was a good example of reality. The first task was to empty the liquid from two barrels. Not at hard task, connect the small pump to electricity, attach two hoses and turn the on switch in the direction of the flow. After the pump emptied what it could I turned the barrels 180º to drain the last of the liquid. Nothing was very romantic about the procedure.
The next task was to paint the cement floor in the winemaking area. First everything had to be moved out. Then the floor was swept and washed. Around the perimeter the washing was on hands and knees. After it dried it was painted with a cement paint. Again the perimeter was on hands and knees but everything else was with a roller. This was not a very romantic task, but the area looked nice and reminded me of painting my parents' garage floor in my youth.
I once was told there were over a thousand decisions that go into making a bottle of wine. I suspect that the vast majority is not very romantic. I'll chronicle many of the winemaker's tasks over the next several months. For now it's prepare for crush cleaning.